Our Stansted Transfer and Shuttle Services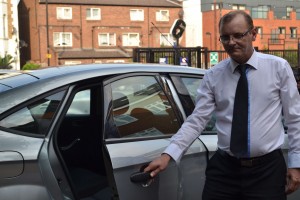 London Stansted Airport is one of the largest airports in London and UK's fourth busiest airport, following Manchester, Gatwick and Heathrow. Numerous low – cost airlines have their base at Stansted, Ryanair being one of the most important. The airport's advantage is its location less than 30 miles away from Central London. Therefore, the passengers landing on Stansted can get in just one hour to one of the world's most beautiful cities. There are various ways of getting to London, including the bus, the tube, the train or the car, but the recommended means of transportation is the minicab.
As you might already know, London is a very busy metropolis and sometimes the traffic can be a real hassle. The only solution in this case is taking a minicab with a professional driver who knows the shortest and best routes to your destination. The only problems will be finding the most trustworthy private hire company in London, as the British Capital is literally filled with this type of businesses. The London Stansted Transfer and any kind of airport transfer in general must be accomplished with professionalism, punctuality and efficiency. For this reason, you must be looking for a company that has all these, for example 247 Airport Transfer. Why choose this firm for your Stansted Transfer to the detriment of the others on the local market? Watch the video, read on and find out.
To begin with, 247 Airport Transfer features some of the lowest prices on the market. Our costs start from £11 and the average price is around £40. Most of the other minicab companies out there have prices which are 5%, or more, higher than ours. So, this a great advantage for those looking for both and affordable and professional service. Not to mention that our company also offers 10% discount to all the clients who are registered on our website.
You might find companies that offer London Stansted Transfers and that are cheaper than ours. That's great! But… are they professional and do they offer the same array of services as we do? In most of the cases, the answer is "No". Booking with a company that has low prices and no other feature is not the best option. You will save a couple of pounds, but you have all the odds to get late to your drop-off address, miss your flight, travel with unclean cars and inexperienced drivers and come across many other snags. So, in this case, those extra pounds for qualified Stansted Transfers are equitable.
Another reason for choosing a minicab company such as 27 Airport Transfer is the wide variety of services it offers to its customers. The majority of the private hire businesses in London are town to town or airport transfer and nothing more. We came with various other services to make your Stansted Transfer a relevant and memorable experience. 247 Airport Transfer is the first company to have introduced tablets in the cars for a more efficient communication with the operators and clients and for better driver monitoring. Moreover, we have introduced the flight tracking system for a more efficient organization and for knowing exactly when your flight lands so that we can send you the car in time. Other innovations introduced along the way are a new and user friendly website and application that will make it easier for you to request a quote or a booking for all your London Stansted Transfers.
As you can see, when compared to other minicab companies in the Capital, 247 Airport Transfer stands out from all points of view. So, if you need quick, affordable and proficient Stansted Transfers, just pick up the phone or enter the World Wide Web and contact us.
To book a transfer to or from Stansted Airport click the following link: London Stansted Transfer ..