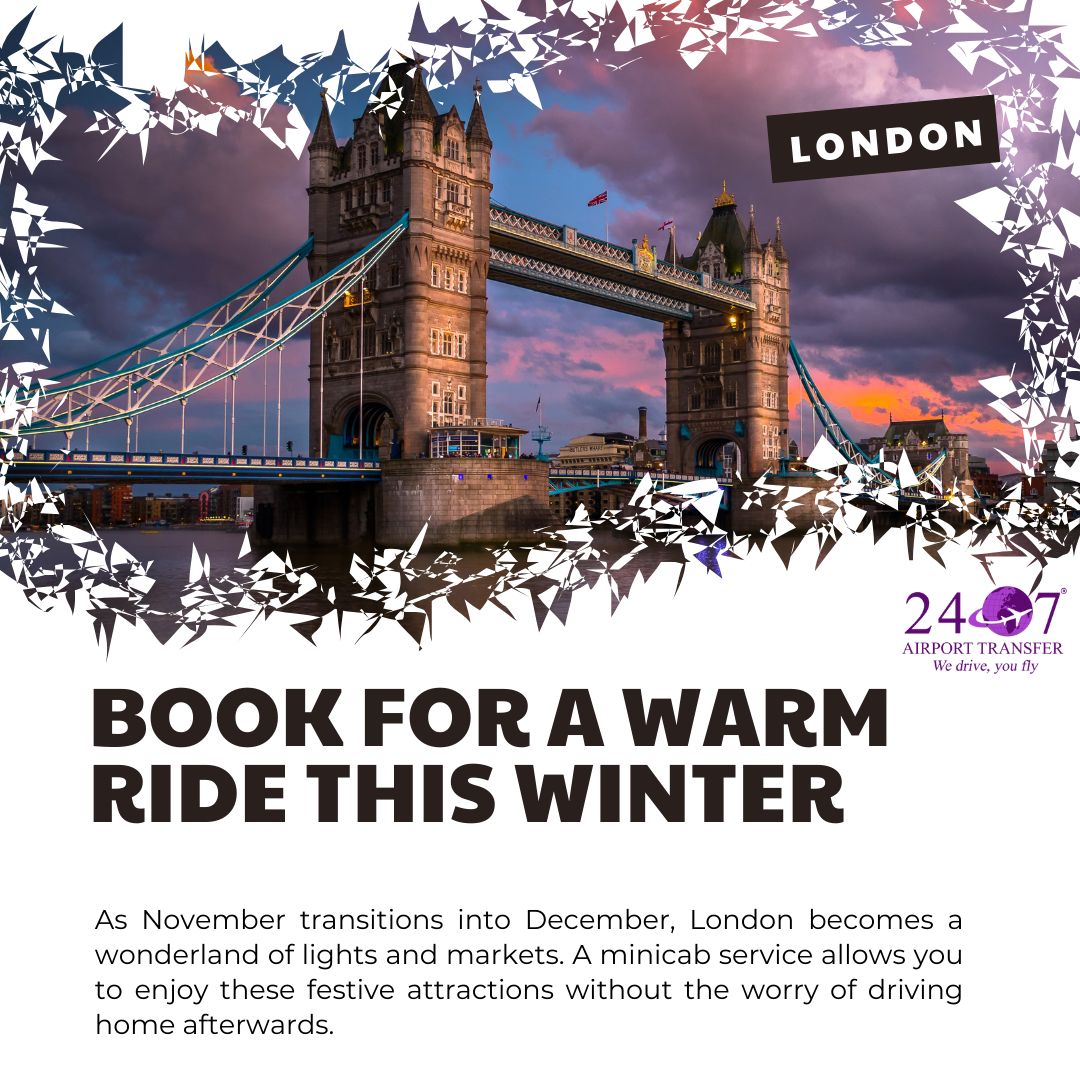 Travelling in London during the colder months can be a challenge. As the city gears up for the festive season, navigating the bustling streets and bracing against the chill in the air requires a bit of pre-planning. Here's where a reliable minicab service like 247 Stansted Airport Transfer becomes an indispensable part of your winter travel toolkit.
Winter Travel in London: The Minicab Advantage
Comfort and Convenience
The first frost heralds the need for warmth and comfort, and a minicab offers just that. Instead of waiting in the cold for public transport, a pre-booked cab can ensure you're picked up and dropped off right at your doorstep. Equipped with heating and comfortable seating, it becomes your personal sanctuary against the winter winds.
Safety First
Winter roads are notorious for being slippery and often treacherous. Professional minicab drivers are trained to navigate these conditions with ease. With a minicab, you're not just paying for a ride; you're investing in your safety. Drivers familiar with London's roads can handle the fog and frost, ensuring you reach your destination without incident.
Reliability
Public transport schedules can be erratic during winter, with delays common due to weather-related issues. Minicabs offer a reliable alternative, with the ability to track your vehicle and an assurance that your ride will arrive when scheduled. This reliability is especially crucial for airport transfers, where timing is everything.
Cost-Effective
While the luxury of a private car comes at a price, sharing a ride or booking off-peak can be surprisingly cost-effective. Plus, the value of reaching your destination without the hassle of transfers and waiting in the cold cannot be overstated.
Eco-Friendly Options
Many minicab companies are now offering eco-friendly vehicles. This means you can travel with the peace of mind that your journey is having a minimal impact on the environment. It's a responsible choice, especially during the festive season when consumption peaks.
Accessibility
Minicabs are an accessible option for everyone, including those with mobility issues or families travelling with small children and strollers. The convenience of door-to-door service means that everyone can travel with ease and comfort, without navigating stairs or platforms.
Festive Travel
As November transitions into December, London becomes a wonderland of lights and markets. A minicab service allows you to enjoy these festive attractions without the worry of driving home afterwards. Whether you're loaded with shopping bags from Christmas markets or returning from a holiday party, your minicab will be there to whisk you home in comfort.
Booking Made Easy
With the advent of technology, booking a minicab has never been easier. A few taps on your smartphone and your ride is confirmed. You can even track your driver's arrival in real time.
Final Thoughts
As the temperature drops, the warmth of a reliable minicab service becomes increasingly appealing. It's not just about travelling from point A to B; it's about doing so safely, comfortably, and efficiently. With 247 Stansted Airport Transfer, winter travel in London is one less thing to worry about. Book your ride, and let us take care of the rest – after all, winter in London is to be enjoyed, not endured.