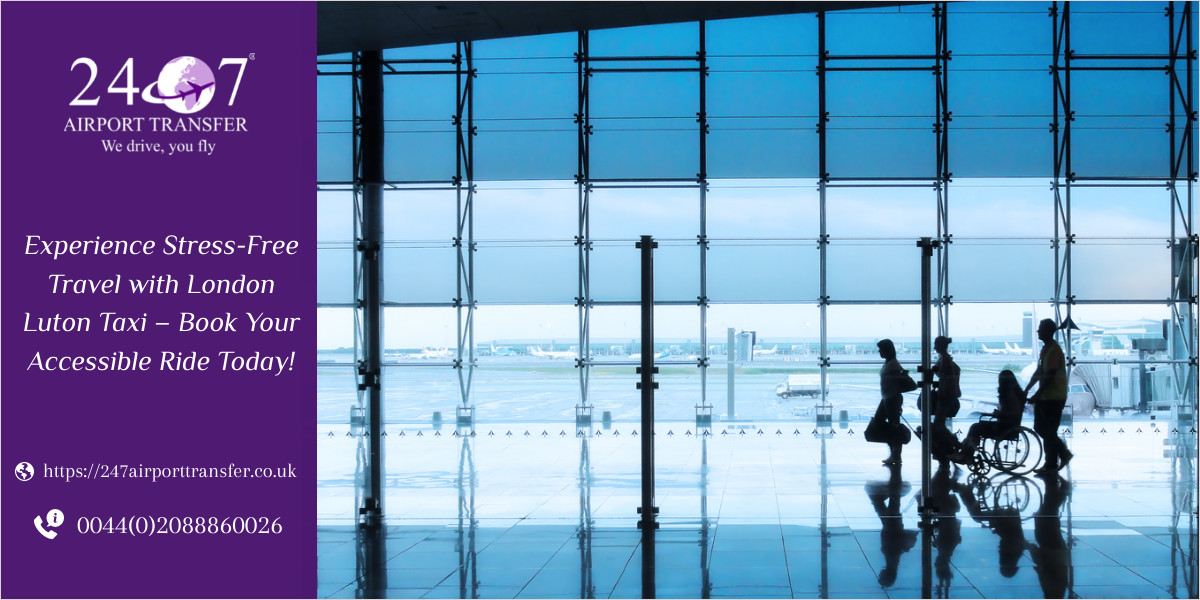 London Luton Airport (LLA) is an international gateway bustling with travellers from around the world. While the airport strives to provide accessibility for all passengers, navigating an airport with disabilities can still pose unique challenges. In this guide, we'll explore how London Luton Taxi services can significantly enhance the airport experience for individuals with disabilities.
The Accessibility Challenge
Travelling can be a rewarding and enriching experience, but for individuals with disabilities, the journey can come with additional obstacles. Luton Airport recognizes the importance of accessibility and has made efforts to create a more inclusive environment. However, some aspects of the travel experience can remain challenging.
The Role of London Luton Taxi Services
For travellers with disabilities, minicab services offer a lifeline of convenience, comfort, and reliability. Here's how these services make a difference:
1. Accessibility-Focused Vehicles: Many London minicab providers have accessible vehicles designed to accommodate passengers with mobility challenges. These vehicles often feature ramps or lifts, spacious interiors, and secure restraint systems for wheelchairs.
2. Stress-Free Transfers: Arriving at an airport can be stressful for anyone, but this is especially true for those with disabilities. 247 Luton Airport Transfer provides a seamless transition from the airport to your destination, eliminating the need to navigate unfamiliar surroundings or crowded terminals.
3. Personalized Assistance: our drivers are well-trained in providing assistance to passengers with disabilities. They can help with boarding and disembarking, securing mobility aids, and ensuring your comfort throughout the journey.
4. Accessibility to Various Destinations: directly to your hotel, home, or any other address in the region. This flexibility ensures that passengers with disabilities can reach their final destination with ease.
Booking a London Luton Airport Taxi for Passengers with Disabilities
Booking a transfer for passengers with disabilities is a straightforward process:
1. Advance Booking: To ensure a seamless experience, consider pre-booking your taxi online or by phone before your arrival at Luton Airport. This allows us to prepare an accessible vehicle and ensures that your ride is ready when you need it.
2. Inform the Transportation Provider: When booking, be sure to inform the provider about your specific accessibility requirements. This ensures that they can match you with a suitable vehicle and driver.
3. On-Arrival Assistance: If you haven't pre-booked, don't worry. Luton Airport has accessible taxis readily available at the airport, and airport staff can assist you in locating them.
4. Clear Communication: Communication is key. Clearly communicate your needs to the taxi driver, and they will do their best to accommodate you. If you require specific assistance, such as help with luggage or boarding, don't hesitate to ask.
Travelling with disabilities should be an enjoyable and accessible experience for everyone. London Luton Taxi services play a crucial role in ensuring that passengers with disabilities have a stress-free and comfortable journey to and from Luton Airport. With accessible vehicles, personalized assistance, and a commitment to inclusivity, these services make a significant difference in the lives of travellers with disabilities. So, the next time you're planning a trip to or from Luton Airport, consider the convenience and accessibility that London Luton Taxi services provide.