Stansted to Liverpool Street Station Taxi
After the World Wars ended, the Liverpool Street Station entered a state of disrepair and in the 70s it was just a dank, dilapidated and dark station, having nothing in common with the past grandeur. Between the years 1985 and 1992, it has been modified, repaired and improved, offering it the appearance we all know now. A brand new booking office was constructed in the underground and all the platforms were brought to a common end point. The Victorian façade, the cast-iron pillars, as well as the GER memorial were preserved to evoke its beginnings.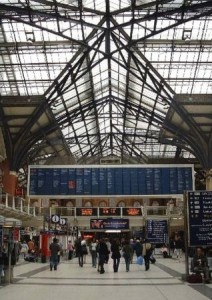 The demolition of Broad Street Station took place at the same time with the refurbishment of Liverpool Street Station. The Broadgate development replaced the Broad Street Station. On the 5th of December 1991, the newly refurbished Liverpool Street Station was opened and the opening was performed by Queen Elizabeth II.
A huge departures board was placed above the station concourse. Even though it cost a lot of money, it was not operational until a few months later. It was the largest mechanical display in the United Kingdom, but it was taken down in 2007. A couple of electronic boards took its place.
Another entrance was opened in 1992 on Bishopsgate and the roof was maintained with the same style as the pre-War one. The only difference is that the old one is made of smoked plexiglass and the new one has clear glass. There is a uniform line that marks the end of all the platforms. The platforms numbered 18, 17 and 16 can accommodate only 8 carriages, while all the others can accommodate 12 carriages.
Rail Transport from Stansted to Liverpool Street Station:
In order to get rail transfer from Stansted Airport to Liverpool Street Station, all you have to do is take the train from the airport to Liverpool Street. From here, you can simply walk for 3 minutes or so till you get to Liverpool Street Station. Another option would be taking a Stansted Taxi to Liverpool Street Station.
Road Transport from Stansted to Liverpool Street Station:
So as to travel by car from London Stansted Airport to Liverpool Street Station, you will have to take the M11 road. Stansted Airport is 36.3 miles away from Liverpool Street Station.
Taxi from Stansted Airport to Liverpool Street Station:
A journey by taxi from Stansted Airport to Liverpool Street Station with 247 Stansted Airport Transfer will cost you almost 65 GBP for a saloon car. The Stansted Transfer to Liverpool Street Station will last around 1 hour and 15 minutes.
The future of taxi service is here! 247 Stansted Airport Transfer ensures comfort and an experience to cherish. Our services entail safety and world-class customer management. Our taxis to and from Stansted Airport offer 24/7 support along with a guaranteed on-time arrival.
We take pride in our motto to offer a comfortable ride to everyone. Having said that, our team understands the hassle of traveling with children.  Taxis To & From Stansted Airport offers a plethora of additional services:
We provide on-request baby seats and transform the ride into a child-friendly environment for you to relax while your little angel is taken care of.
Unlimited wi-fi service during the ride,
Trustworthy and reliable service,
Hassle-free, cashless payment to the driver.
 Tablets provided in the car.
As a team of young professionals with a strong foothold in the industry, we prioritize customers and go above and beyond our ways to ensure our customers feel comfortable and experience a personalized service when they book with us. Here's why we are the No.1 choice in London when it comes to minicab services:
Affordable prices make them 40% less cheap than black cabs.
Instant 10% discount on creating an account.
Numerous accreditation's and 5-star ratings as feathers in our hats.
We strive to be better for you with your valued feedback. Moreover, our legitimacy is proved by our numerous accreditation's ISO 9001, ISO14001. Our customer services and dedication towards them helped us to bring our first 5-star rating award by the LPHCA.
Apart from caring for our customers, we also take a keen interest in taking care of the environment. With every car ride, we corroborate measures that helped us achieve accreditation's ISO 9001 and ISO 14001. In addition, we also hold an Investor in People license to acknowledge our world-class efforts in customer satisfaction and management. Our drivers hold the finesse you expect from a professional service provider.
We have the best drivers working with us. All the drivers working with us have been trained by Gram Training. They have a mandatory NVQ Certificate, Level 2 in Road Passenger Vehicle Driving and Transport Operation. We are also one of the proud members of the Confederation of Passenger Transport UK – CPT, coach, and bus industry in the United Kingdom.
What are you waiting for? Book your quote today and get an amazing discount! 
Other Important Airport Transfer Information: 
* Get Fares for Stansted Taxi Transfers Here: Stansted Taxi Transfer
* Find Out More Information About Stansted Transfers and Stansted Shuttles Here: Stansted Transfers and Shuttles
* Find Out More Information About Heathrow Transfers and Heathrow Shuttles Here: Heathrow Transfers and Shuttles
* Find Out More Information About Gatwick Transfers and Gatwick Shuttles Here: Gatwick Transfers and Shuttles
* Find Out More Information About Luton Transfers and Luton Shuttles Here: Luton Transfers and Shuttles
* Find Out More Information About City Airport Transfers and City Airport Shuttles Here: City Airport Transfers and Shuttles.