Dear customer,
We've always liked to let reviews and other people talk about our services and let you find the reason for which you should book a taxi from Stansted with us. We feel that their oppinion is more objective than ours and, from your point of view, maybe even more trust worthy. Still, although the high number of quality feedbacks received in the last months speak from themselves, we would still like to bring you a few reasons for which we believe that you should book a Stansted taxi with us, for which we believe we should be your first choice.
1. From 1 to 60 cars in three years
We are not looking to brag, not at all, but we feel that you should know how we started and where are we now, as our evolution was and is based and the quality services we have always offered, from the beggining to this day. It's obvious that a company that doesn't care about customers, that doesn't work hard to offer a professional type of service, that doesn't keep it's word won't evolve.
Still, even if not went perfect each time, even if sometimes we could not reach perfection, we learned from our mistakes and made sure that we did not repeat them again. Today, we can say that our London Stansted taxi service is almost close to what we imagined a few years ago, while we are close to our goal – offering some the best taxi services in London Stansted while mainting a low price. This being also the reason why most of the reviews say that we offer the best value for money.
2. Our principles
One important aspect of our Stansted taxi service is the fact that, at any time and in any situation, we did our best to stick to the principles we set when we started. It's true, maybe from time to time we didn't manage to fulfill all at once, and we would like to apologise to you, our customer, for this. But most of the times you booked a taxi to or from Stansted with us we managed to:
a) express elegance
b) have a friendly and polite staff
c) be on time
d) be thoroughly professional
e) respect you and your needs
f) offer courteous drivers and clean cars
We promise to continuously stick to this principles when you book a transfer to or from Stansted Airport with us.
3. The positive feedbacks
We've spoken a lot about the positive feedbacks we've received for our Stansted taxi services. Now we would just like to offer you a few examples, and just let you decide if we deserve to be your transfer company from Stansted or not. The feedbacks were posted on eKomi, a company specialised in reviews and testimonials:
a) "Driver was waiting for us when we landed after 24 hours of flying. The service was as expected – straight to the hotel – hassle free."

b) "This was the best taxi service i ever had. First I need to thank the company for maintaining high standards but also the individual company "Gold Partner" which is an amazing company. The drivers are very professional and always ready to help. On the day of my flight, my lift was broken and the driver himself bothered to get out of the car and carry 3 Heavy suitcases all by himself down (1 by 1). I was really impressed and was waiting for the day, i get to 5 Star this company. Would definitely recommend anyone to book "Gold Partner" quotations, they are really the best and i hope the remain so."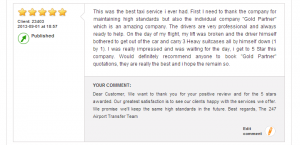 c)  "On the journey to the airport the driver arrived on time and was very helpful in loading suitcases into vehicle. On the return journey from the airport again the driver arrived on time at the designated collection area. His sign was very clear and he was located immediately. Again the driver was very helpful in both loading and unloading the suitcases. As there were 5 adults and 5 full sized suitcases, this is definitely a company I would use again and recommend. Thank you for making the journeys both ways stress free."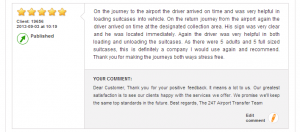 We do not say that we are the best taxi company at Stansted airport but we try, each time, to do our best to keep you, our customer, happy! Now it's the moment to let you decide if you will choose us as your London Stansted taxi company or not.
Thank you for being close to us in the past three years!
Best regards,
The 247 Stansted Airport Transfer Team