London is gearing up for a momentous occasion – the coronation of King Charles III! The event is set to take place on June 6th 2023. As a traveller to the city, you can expect a thrilling atmosphere and bustling activity on the day. Here are some travel tips to help you navigate the transport and travel during the coronation day.
Plan Your Journey in Advance
With the coronation day expected to attract large crowds, it's essential to plan your journey ahead of time. Be sure to check your travel route and keep track of any delays or disruptions. Download the Citymapper app to access real-time travel information and help you find the best routes to get around the city.
Consider Using Public Transport
Public transport is the most convenient way to get around London during the coronation day. The city's transport system includes buses, trains, and the underground. Those can help you get to your destination quickly and easily. However, be prepared for long travel times and potential delays due to the crowds.
Make sure to plan ahead and check the Transport for London (TfL) and National Rail websites to ensure a smooth journey to your desired destination. As the special 'bank holiday weekend approaches, the transportation services are expected to be overflowing with individuals travelling to witness the coronation procession and other associated events. Be proactive and avoid any potential inconveniences by planning accordingly.
From Stansted Airport, you can take the Stansted Express train to Liverpool Street. National Express and Megabus coach services also serve London's airports.
Be Prepared to Walk
With the crowds, you might find that walking is the fastest and most efficient way to get around the city during the coronation day. Consider wearing comfortable shoes and dress appropriately for the weather. Remember to carry a bottle of water and some snacks to keep you going during your walk.
To minimize potential delays or overcrowding, it is advisable to steer clear of travelling through central London whenever possible. Additionally, for those interested in exploring on foot or bicycle, TfL's website offers helpful maps to assist with navigation.
Be Aware of Road Closures
From May 5th to May 6th, the bustling central streets and serene parks of London will undergo significant road closures and parking suspensions. Once these closures take effect, all modes of transportation, including cars, buses, coaches, vans, trucks, motorcycles, and bicycles, will be prohibited from entering the restricted event area.
This will be to accommodate the procession and ensure the safety of all attendees. Be sure to check your travel route and keep up-to-date with any road closures to avoid getting stuck in traffic.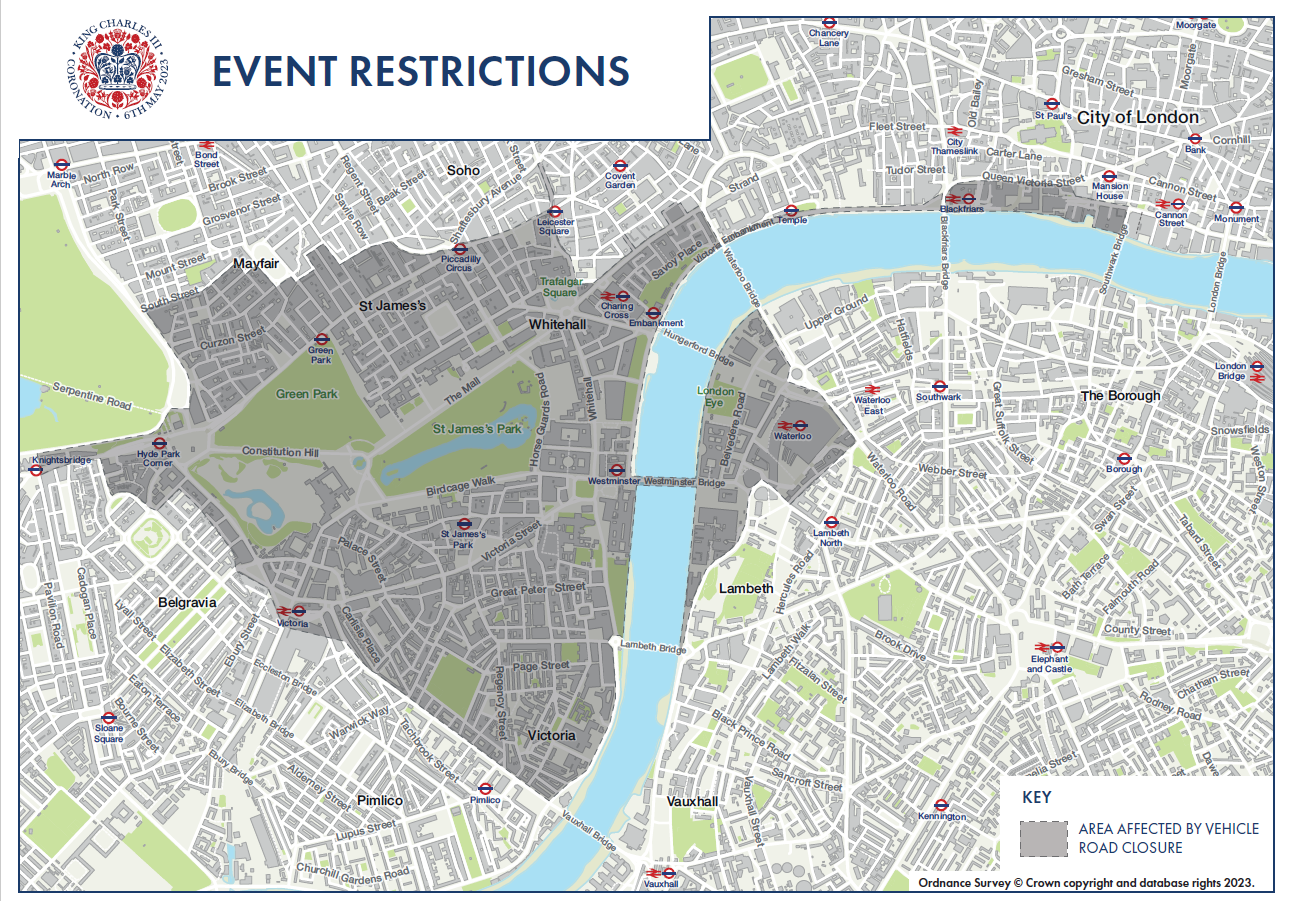 Book Accommodation in Advance
If you're planning to stay in London during the coronation day, book your accommodation well in advance. The city will be busy, and accommodation options may be limited. Consider staying near the city centre to reduce travel times and make it easier to get around.
Get Ready for a Festive Atmosphere
The coronation day will be a joyous and festive occasion in London. The streets will be decorated with flags and bunting, and there will be a buzz of excitement in the air. Be sure to immerse yourself in the festivities and enjoy the unique atmosphere that the coronation day brings to the city.
If you find in need of a minicab transfer to arrive from Stansted Airport don't hesitate to contact 247 Stansted Airport Transfer.
Our Stansted Transfers offer
The coronation day of King Charles III is an exciting event that promises to bring a lot of fun and excitement to London. With these travel tips, you can make the most of your time in the city and experience the coronation day in all its glory. Plan ahead, stay safe, and enjoy the festivities!