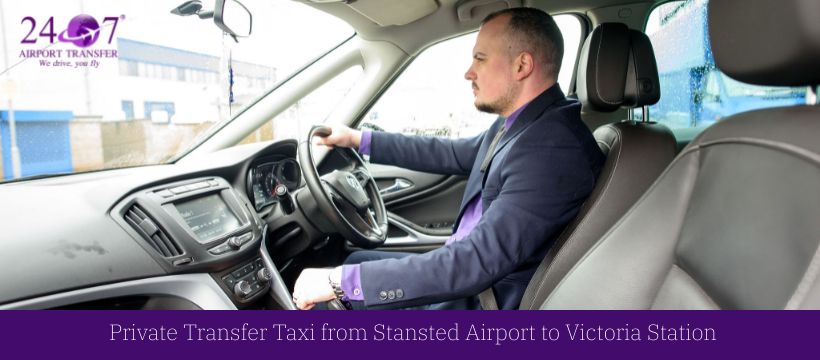 * Stansted to Victoria Station taxi from £132 
Arriving at a bustling airport after a long flight can be overwhelming, especially when you're visiting a new city like London. If your destination is Victoria Station, one of the city's major transportation hubs, a private transfer taxi service can be a convenient and stress-free option.
In this article, we'll explore the benefits of choosing a reliable Stansted to Victoria station taxi with 247 Stansted Airport Transfer, a reputable minicab company in London.
Convenience and Peace of Mind
When you choose a Stansted to Victoria station taxi with us, you can enjoy the convenience of a pre-booked ride waiting for you upon arrival. Unlike public transportation options, you won't have to navigate through crowded terminals or figure out complex transport networks. The dedicated driver will meet you at the airport, assist you with your luggage, and provide a comfortable journey to your destination.
Professional and Reliable Stansted to Victoria Station taxi
247 Stansted Airport Transfer is renowned for its professional and reliable service. With a team of experienced drivers, they understand the importance of punctuality, ensuring that you reach Victoria Station in a timely manner. The drivers are well-versed in the best routes and allow you to avoid traffic congestion and reach your destination efficiently. Additionally, their drivers are familiar with London's roads, ensuring a smooth and safe journey.
Range of Vehicle Options
Whether you travel solo, as a couple, or in a larger group, 247 Stansted Airport Transfer offers a diverse range of vehicles to cater to your specific needs. From sedans and minivans to luxury cars, they have options to accommodate any group size and preference. This flexibility ensures that you'll have a comfortable and spacious ride, regardless of the number of passengers or amount of luggage you have.
Competitive Pricing
Contrary to popular belief, private transfer taxis can often be more cost-effective, especially for groups or families travelling together. 247 Stansted Airport Transfer provides transparent and competitive pricing, eliminating the need for haggling or unexpected charges. With our fixed rates, you can have peace of mind knowing the exact cost of your journey from Stansted to Victoria Station taxi before you even board the flight.
24/7 Availability
As the name suggests, 247 Stansted Airport Transfer operates round the clock, ensuring you have access to the services at any time of day or night. This is particularly beneficial if you have a late-night or early-morning flight and need a reliable transfer to Victoria Station. Their commitment to being available 24/7 guarantees that you'll have a seamless travel experience, regardless of your arrival time.
COVID-19 Safety Measures
In these unprecedented times, it's crucial to prioritize safety and hygiene. 247 Stansted Airport Transfer strictly adheres to all necessary COVID-19 safety protocols, including regular vehicle sanitization, mandatory mask-wearing for drivers and passengers, and limited passenger capacity to maintain social distancing. Rest assured that your well-being is their top priority throughout your journey.
Navigating transportation options in a new city can be daunting, but with a private transfer taxi service like 247 Stansted Airport Transfer, your journey from Stansted Airport to Victoria Station becomes effortless and stress-free. From convenience and peace of mind to professional service and competitive pricing, we provide a superior travel experience. By choosing their reliable private transfer service, you can focus on enjoying your time in London, knowing that your transportation needs are well taken care of.